How to Choose a Car Tow Dolly
If you're someone who loves traveling on the open road year-round, it's important to have a car tow dolly that can support your lifestyle. But, are you wondering how to choose a car tow dolly model for your RV? Or, if a tow dolly is the best form of transport for your car?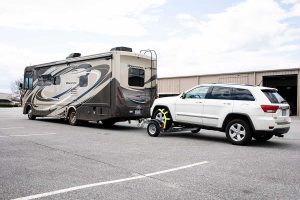 When it comes to transporting your vehicle, we know you have important car tow dolly
 questions, which is why we'd like to help 
you decide what matters most when it's time to tow your car.
Find Your Roadtrip Fit: Car Dolly vs Flat Towing
Tackling a long-distance road trip can be tough at times. Between traveling with family, and keeping track of the GPS, you have enough to worry about. So while you're traveling, it's important to pick the method of car transportation that fits your road trip requirements – and that begins with choosing how you'd like to tow your car.
When it comes to towing your vehicle, there are two highly effective methods you can use to transport your car from place to place – flat towing your vehicle directly on the pavement, or using a tow dolly to transport your car from place to place.
While flat towing your vehicle requires less equipment, you do have to install a tow bar in order to transport your car from one place to another. Additionally, not all cars have the ability to be flat towed safely, especially if they have an automatic transmission. If you're unsure of whether or not your car can be securely flat towed behind your RV, then this method of towing likely isn't your best option.
Car tow dollies are a different form of towing, that is compatible with a variety of front-wheel drive vehicles. This heavy-duty piece of machinery is one of the best tow options available for a number of reasons. A car tow dolly still gives drivers the freedom to haul a car behind an RV, without installing a tow bar, or forcing anyone to rent a car trailer for a weekend road trip.
This choice can be difficult for some, but the safest and most effective way to transport your car is with a car tow dolly. With a reliable braking system, the secure reinforcement of wheel straps, and additional accessories that protect your vehicle. For more information about these methods of towing, review our post What's the Difference Between A Car Dolly vs Flat Towing?
How to Choose a Car Tow Dolly for Sale
Once you decide to tow your car with a car tow dolly, there are a few different things to consider when you're choosing your car tow dolly model. While there are plenty of car tow dollies on the market, there are a few important features you should consider when it comes to choosing your car tow dolly. Review the following, so you can learn more about what matters most when traveling, and what you should be looking for in your car tow dolly model.
Car Dolly Weight

It's important to have a lightweight car dolly that is easy to transport, maneuver, and to use on the go. If it's too heavy, you'll have difficulty attaching, removing, and unloading your car tow dolly.

Our EZE TOW Car Tow Dolly is 330-380 pounds – the lightest on the market. We design our models to be easy to maneuver, and incredibly lightweight, so you won't find yourself straining to attach, load, or operate your tow dolly.
Tow Dolly Width

While you travel, it's essential to have a wide tow dolly, but not an overly bulky tow dolly model. While rental trucks and travel trailers are supposed to be large for storage purposes, our tow dolly is the widest on the market at 80.5 inches, so you can store your front wheel vehicle with ease. However, it won't be so large that you can't move your tow dolly with ease. For more important information, review our

tow dolly features

.
Tow Dolly Storage

If you have limited space in your garage or storage area, buying a particularly bulky dolly isn't in your best interest.

The EZE TOW Tow Dolly has a

25-inch x 102-inch footprint when stored vertically, so it won't take up too much additional space wherever it's stored, giving you plenty of room to park your car or hold other items.
Tow Dolly Weight Capacity

If you have a wider or heavier car model, it's important to know that

your car can be towed on a tow dolly

.

The EZE TOW Tow Dolly can support cars that weight up to 5000 pounds, so depending on the make and model of your car, we should be able to support it. Our dolly can even support small trucks!
Tow Dolly Parts and Accessories

Tow Dolly Tires

Most dolly tires will last thousands of miles, depending on the frequency of use. It's essential to find the right model of tire for your dolly – our EZE TOW dolly supports model E tires.

Tow Dolly

Wheel Straps

Wheel straps are what keep your front wheel tires securely attached to your tow dolly. This is hands down the most important accessory that compliments your tow dolly.

While they do not break easily, wraps can fray over time and will need to be inspected between uses.

Tow Dolly

Brake System

A responsive brake system is the other important component of your tow dolly. A tow dolly that requires a brake controller system can require more work, why is why we've developed a highly sensitive but responsive hot galvanized tip braking system.
How to Load a Car on A Tow Dolly

When shopping for a tow dolly, it's important to find a system that's easy to load and unload. Our EZE TOW Dolly is easy to attach, and is designed for simple and straightforward car loading. For a closer review, review our

how to load a car tow dolly video

.
Tow Dolly Wear and Tear

One of the pros and cons of all equipment is its wear and tear. However, car tow dollies really don't need regular maintenance! Most parts will last for years unless they experience extreme duress.
Final Car Tow Dolly Buying Tips
Before you buy, it's important to consider how you'll operate and maintain your car tow dolly. However, there are a few other questions you should ask yourself, that will help ease your decision, so you'll feel confident operating your tow dolly.
If you can easily answer these questions, and know you have the instructions and support you need to use your car tow dolly, then it's time to buy and hit the road!
When it comes to your tow dolly, it's best to choose a model with little maintenance, a secure warranty, and a reliable team that can help answer your questions our concerns. At Car Tow Dolly, we stand behind our product and want our car tow dolly to enhance your time on the road. If you'd like to review your tow dolly options, read our
Car Tow Dolly Comparison: Eze Tow Car Tow Dolly
, to see why our dolly is the best choice for all types of road trips.