Description
A car dolly is a popular piece of equipment used by thousands of people across the country and Canada when towing vehicles of all sizes from one location to the next. Whether you are traveling for fun, moving, or bringing home a new car; towing dollies make it easy for all involved to transport the vehicle to and from different locations.
No longer do you have to find someone trustworthy to drive your vehicle to your destination in the hopes that they do not steal your vehicle, get into an accident, or charge you too much for their services. Now, with a one-time purchase of the tow dolly, you can transport your vehicles yourself with the peace of mind that all will go according to your plans.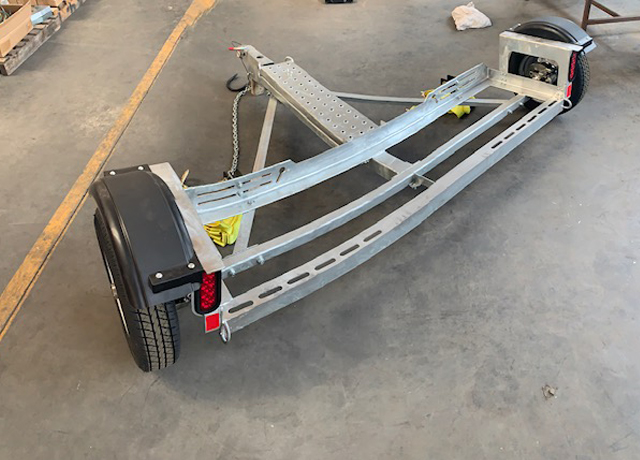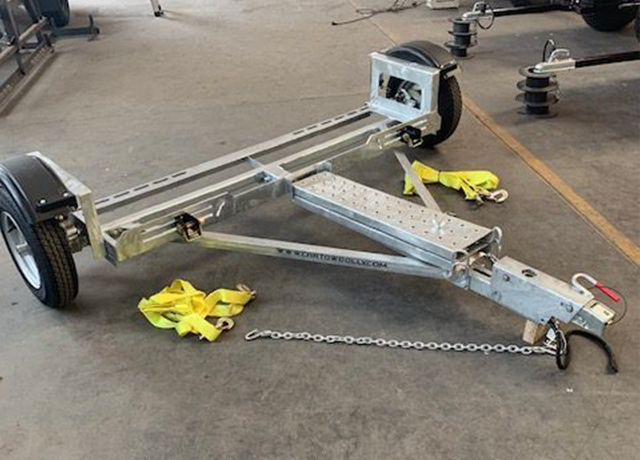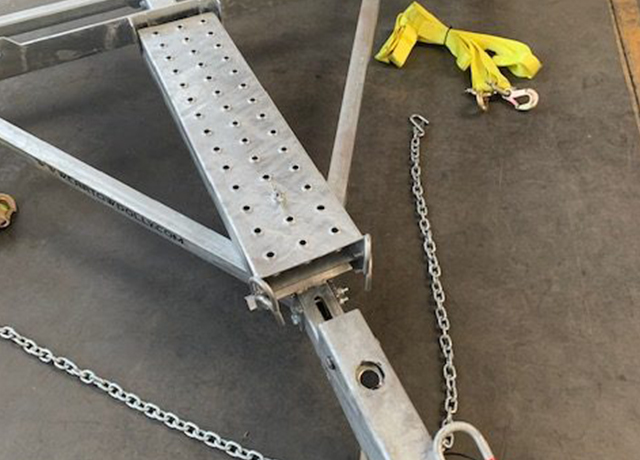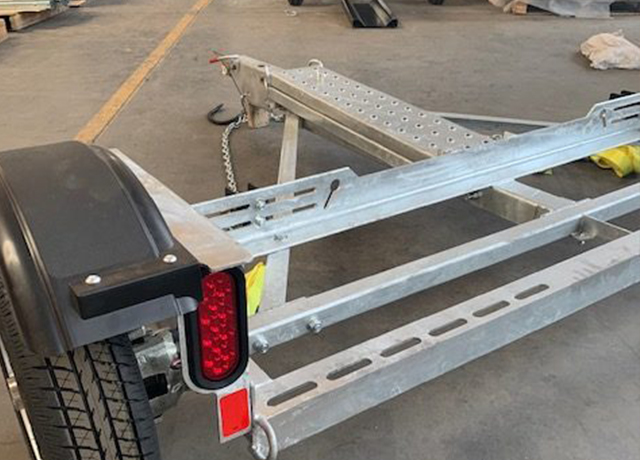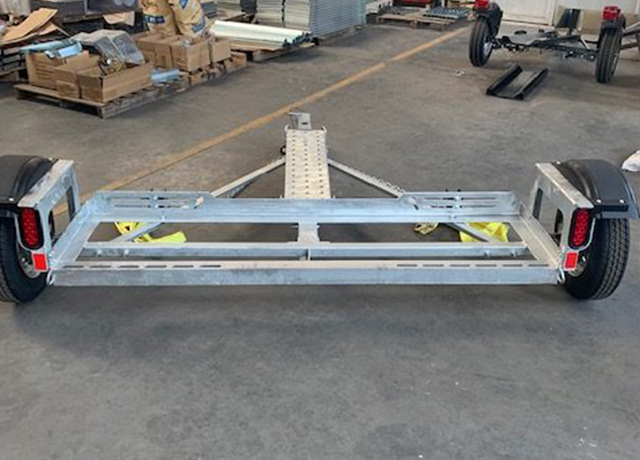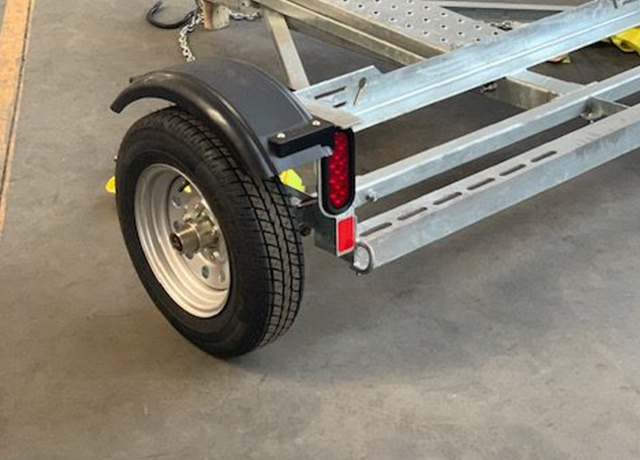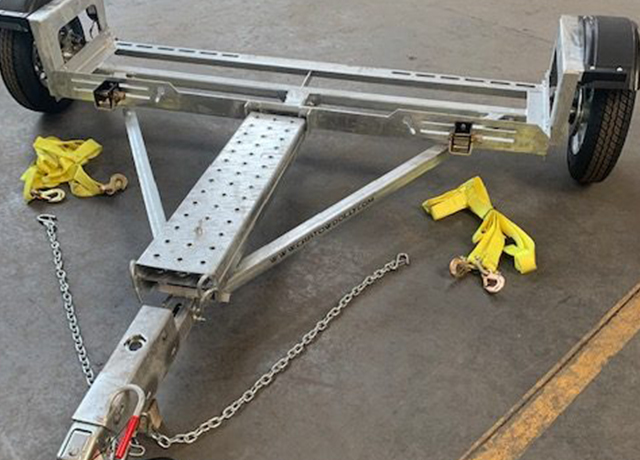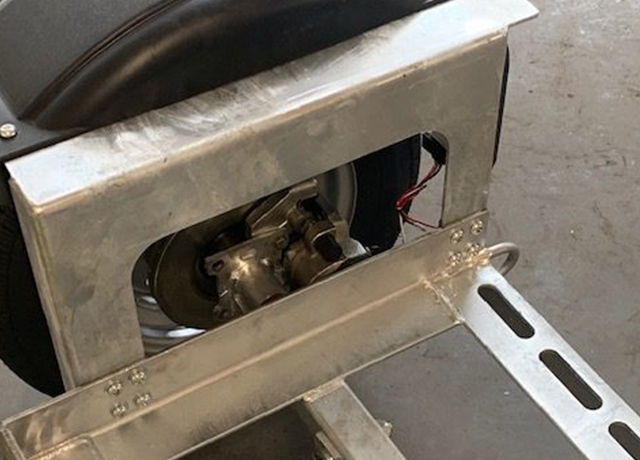 Flat Rate Shipping
Most of the tow dollies available at Car Tow Dolly come with flat rate shipping. You won't be surprised by the shipping costs when you move through the checkout process on our website. We tell you upfront what the flat rate is for shipping the tow dolly you decide to purchase from us. The flat rate is based on your location and the distance it is from our warehouse in North Carolina.
Tow Dolly Stores Vertically
We understand how difficult it can be to find enough storage for a trailer or any other type of vehicle. That's why we manufacture the EZE Tow Dolly to store vertically no matter where it is kept on your property.
Find a place inside your garage or shed, push the dolly into the structure, and stand it upright until you need to use it again. Since the dolly can be stored standing up, you can push it flush against any wall of your garage or shed, leaving plenty of room to park a vehicle, lawnmower, snow blower, or store any other items in the structure.
Multiple Warranties Available
Every single tow dolly purchased from us comes with a standard warranty, level one, at no cost to the buyer. This warranty is valid for 6 months.
This warranty covers the following:
Construction

Workmanship

Welds

Wiring

Lights

Brake lines

Fittings

Actuator

Brake calipers

Bearings

Seals 

Initial shipping damage, if any
The following items ARE NOT covered under the warranty:
Tires

Wheel straps

Labor costs

Operator negligence

Accident or road hazard damage

Damage from any source that is not covered under warranty
Level Two Warranty
You can upgrade the warranty that comes standard with your tow dolly to the level two warranty. This warranty is active for three years and is only for the original owner of the dolly. The warranty cannot be transferred to a second or third owner of the dolly. This warranty covers all of the items in the standard warranty.
Level Three Warranty
There is a level three warranty upgrade you can purchase as well. This warranty is active for five years and it covers all of the items listed in the standard warranty. This warranty can be transferred only one time to a second owner of the dolly for a $50 transfer fee, which is often paid for by the buyer.
To complete the assembly of any of our towing dollies, you will need to bolt the plastic fenders, the tongue, and the cross members.
Your partially assembled dolly will arrive prewired and requires just one quick easy plug.
The primary brake and axle lines will be pre-installed. Just connect one fitting. Bleed the brakes as shown in the assembly video. You'll need to purchase a small bottle of DOT 4 brake fluid. Some people assemble the dolly then tow it to a trailer repair service center to have the brakes bled.
The car dolly for towing can be assembled by one person, but we recommend getting a second person to assist you.
See our Assembly video for a tool summary.
Lightest Dolly on the Market
The tow dollies sold by Car Tow Dolly are the lightest on the market today by a longshot. Weighing around 400 pounds, but rated for more than 3,000 pounds for towing capabilities; our tow dollies are very easy to move. One person can hitch and unhitch the dolly from the towing vehicle and push it for repositioning or to store it until the next use.
All of the wiring on the EZE Tow Dolly is internal. This means that you will not see any wires hanging from the dolly anywhere. You won't have to secure wires, hide them, or cover them prior to hitting the road. Internal wiring makes your trip safe from start to finish. There's no worry about replacing wiring because it drags on the pavement and stops working.
Easy-to-Replace Components
Every single component of the tow dolly is easy-to-replace. Car Tow Dolly uses parts that can easily be found at home improvement and automotive stores across the country and in Canada. You won't be required to purchase replacement parts at high costs from manufacturers when something breaks or is damaged in an accident. You will be able to find any part that needs to be replaced no matter where you're located on your trip, getting you back on the road in no time.
Our tow dollies come with wider wheel pans that other tow dollies on the market today. A wider wheel pan makes it easier to load and unload any vehicle being towed with one of our dollies. You won't struggle to line up the wheels of the vehicle with the ramps on the dolly because of the added width. Be sure you only load and unload the dolly when the towing vehicle is stopped and placed in the park position. You should also make sure that you have a spotter when backing a vehicle off the dolly or when driving onto the dolly.
You will notice that all of our tow dollies now come with improved LED lighting. The turn signals, brake lights, and running lights are all LEDs now. LED lights make it much easier for other drivers to see your tow dolly on the roads of America. Don't take the chance of being involved in a rear-end collision with other dollies on the market today when a Car Tow Dolly can keep you safe with LED lights.
The material used to manufacture our tow dollies is 100 percent fully hot dip. This means that all of our dollies are galvanized. This material is incredibly strong and difficult to damage or break, ensuring that if you are in an accident, the dolly should hold up well against many different elements.