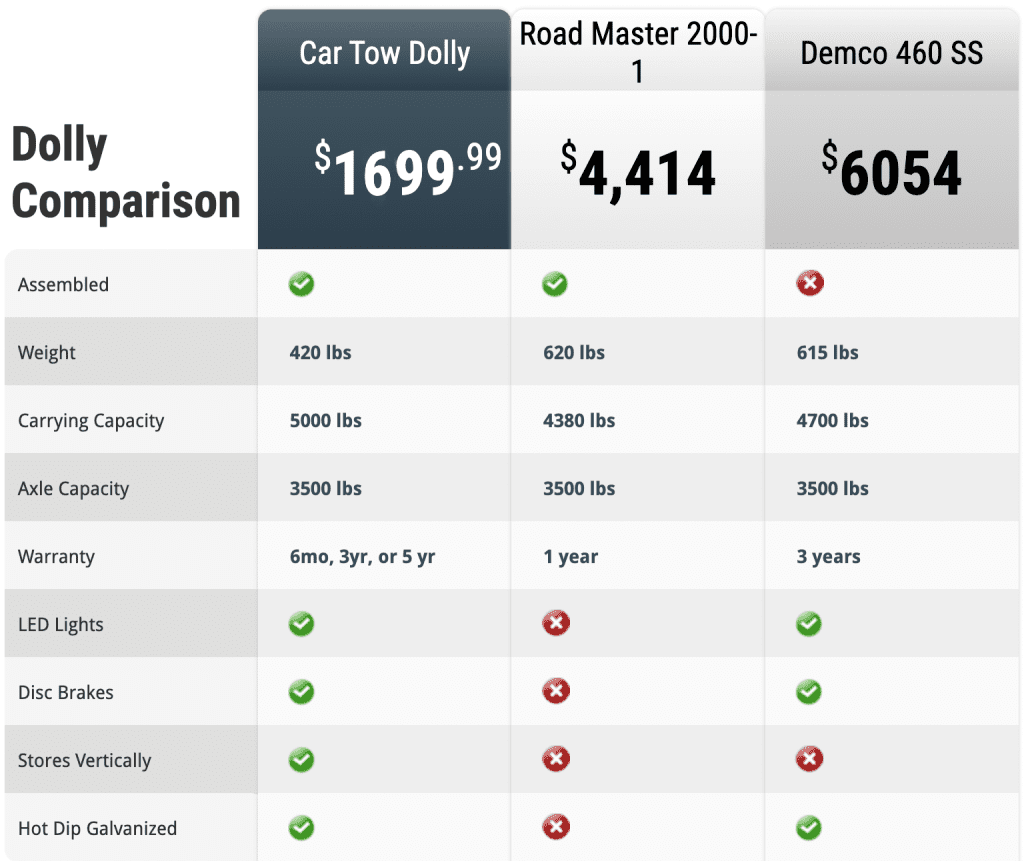 When it comes to purchasing a tow dolly, there are a couple of key things to keep in mind: size, weight, and price. While it's easy to focus on one aspect more than the other, all three are of equal importance when it comes to towing your vehicle.
As you start to look at tow dollies, there are a few models you can select from. Three popular tow dolly models include the Roadmaster 2000-1, Demco 460-SS, and our very own Eze-Tow Disc Brake Dolly. We're going to take a closer look at the pros and cons of these models and give you a full tow dolly comparison, so you can make an informed decision.
---
Comparing Tow Dolly Models
The purpose of a tow dolly is to transport your car long distances, without the traditional hassles of towing a car on all four wheels. A tow dolly offers front wheel support to your vehicle, so it can avoid serious damage, and the weight of your car is supported by the tow dolly. Plus, it won't add additional mileage to your vehicle during trips! Tow dollies are designed for front-wheel drive vehicles weighing less than 5000 pounds.
We're going to take a closer look at the different types of tow dolly, and see which one has the best overall value, based on quality, price, and design.
Let's take a look:
Road Master 2000-1

Total Cost: $4,414

Total Weight: 620 lbs

Carrying capacity: 4380 lbs

Axel capacity: 3500 lbs

Warranty: 1 year

Incandescent lighting
While the Road Master comes at a reasonable enough price, the total carrying capacity can be limited to smaller sized vehicles, which might be less than ideal for your lifestyle.
Demco 460 SS (UNASSEMBLED)

Total Cost: $6,054

Total Weight: 615 lbs

Carrying capacity: 4700 lbs

Axel Capacity: 3500 lbs

Warranty: 3 years

LED lighting
As the most affordable, and longest warranted option on the list, the choice is clear – the Car Tow Dolly  "EZE-TOW" will make your road trips and moves easier for years to come. As the lightest tow dolly option, it's easy to attach, remove and manage.
The Bottom Line?
When it comes to an RV tow dolly, it's best to go with the most affordable, and protected option! That makes the Car Tow Dolly, "EZE-TOW" the clear winner. You'll never have to worry about the safety of your vehicle thanks to the innovative design.
The "EZE-TOW" Car Tow Dolly
Our product is more than reliable – it's easy to use and is user-friendly! We try to make our car tow dolly affordable, efficient, and ideal for all your travels. For more information about the product, go check out The Original Car Tow Dolly, so you can start saving and invest in a product that will last for years to come!
If you've been searching for a tow dolly near you, end your search with the Car Tow Dolly "EZE-TOW!" We stand by our product, and will happily answer any questions you have!