The Original, Disc Brake, Acme "EZE-TOW" Car Tow Dolly
Don't Be Fooled By Imitations.
$1999.99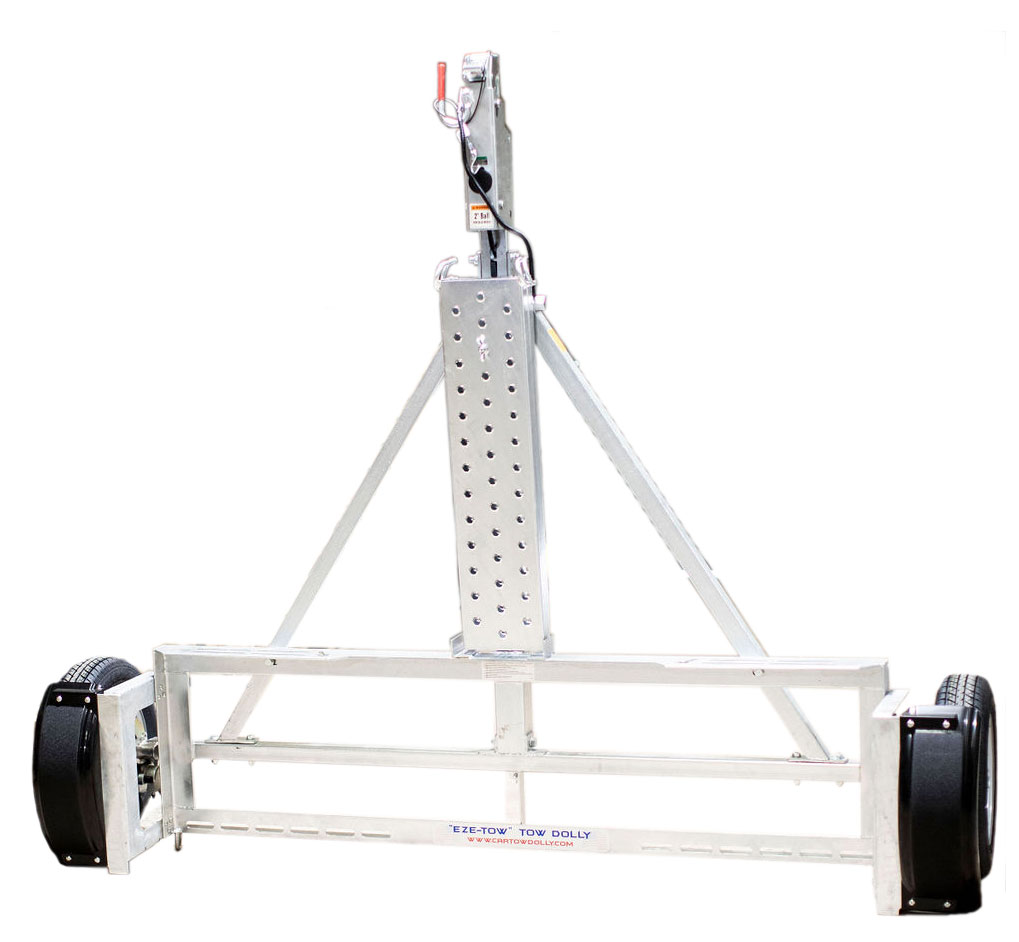 The Original, Disc Brake, Acme "EZE-TOW" Car Tow Dolly
Don't Be Fooled By Imitations.
$1999.99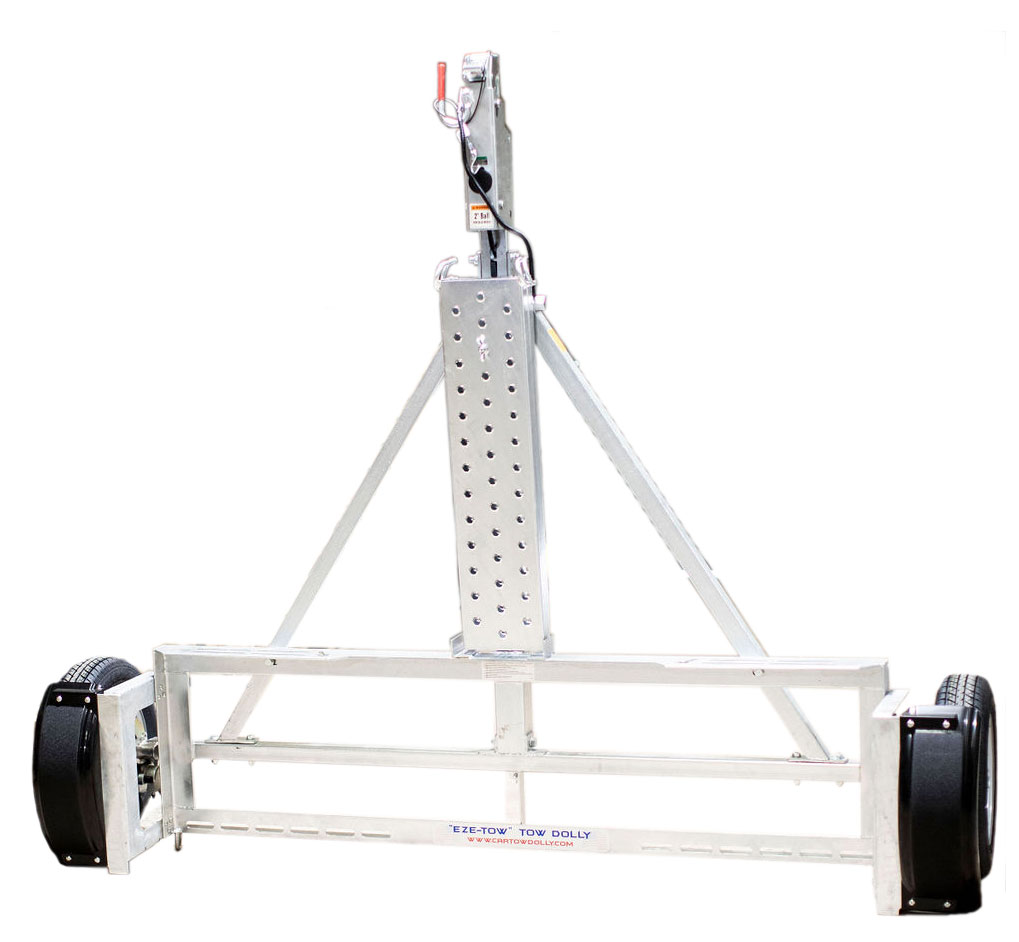 Car Tow Dolly | The Original EZE-TOW Solution
Canada direct shipping options now available!
Car Tow Dolly | Highest Quality | Most Affordable
Car Tow Dolly Co. offers the lightest car tow dolly available on the market for your RV's, trucks, and more. Most of our customers are retirees, and they don't want to lug a 700 to 900 lb. Our lightweight car tow dolly at 400lbs is the lightest and most maneuverable dolly available.
Our car dolly is well balanced and easily managed by one person.
The Car Tow Dolly reviews are astounding with an average rating of 4.6 with over 273 customer reviews.
Our car dolly trailer was the FIRST AND ORIGINAL car tow dolly in the world with fully vented, double vane "disc" brakes. As a tow dolly with surge brakes, the Ultralight "EZE-TOW" has more than triple the braking efficiency of drum brakes. With the heavy-duty car dolly, you won't have to worry about lockups or chucking, and the pads are in clear view, making this the most trouble-free and reliable braking system available.
If you're looking for a car tow dolly near to you, look no further because of our car dolly bundle ships for free anywhere in the USA!
Tow Dolly | Frequently Asked Questions
Product
How exactly do your brakes work?
Brilliant and simple. Understand that the coupler that goes over your 2 inch ball is actually a large piston extending back into the actuator housing. When you apply your RV brakes, or have any deceleration at all, the weight of what you are towing press's forward and pressurizes the brake line. It is a very powerful, precise and sensitive braking system from mild deceleration to panic braking. No delayed hit, no chucking, just very precise simultaneous braking with your coach. Emergency breakaway cable insures a full brake lock up in case of separation of the tow dolly from the ball. The original DISC brake tow dolly. The Idler dolly has NO BRAKES.
Will the wheel straps that you offer fit the tires on my vehicle?
Unlike our competitors, our straps are completely adjustable from 13 inch to 20 inch tires all makes and models of cars.
Is the tire size a common size to find, and how well do they function on posted speed limits?
Yes and no. The tire size is fairly easy to find, but the "E" weight rating usually has to be ordered. Of course we stock them and can ship a set of tires to you very quickly. We have thousands and thousands of these tires on the road every day. They are very reliable and robust. When the dolly is properly loaded they can travel safely at any posted speed limit. Leave plenty of braking room.
Is this tow dolly California and Canada compliant?
Canada is more restrictive than California. Our dolly is legal nationwide and Canada.
Is your disc brake system nationwide compliant?
Yes. Our brake design exceeds all federal requirements in the US and Canada.
I have heard that dollies are designed to work with front wheel drive vehicles. Can I use my rear wheel drive vehicle on your dolly?
All dollies are designed for front wheel drive vehicles. However many people have told us that they have towed their car backwards. Sorry we cannot advise you on this technique.
How much storage space do I need to store your dolly?
Our tow dolly is the only tow dolly on the market that can be stored in a vertical position requiring a 25 inch x 102 inch footprint. Our dolly will easily tuck under the rear of most coaches about 85%. Our tow dolly is 102 inches wide, 92 inches long and 27 inches tall to the top of the fenders, weighs 330-380 pounds. It will stand on its on without an aid but we recommend restraining it in some manner.
Will my wheel straps last forever?
No. Wheel straps are consumables for all tow dollies. They do all the work and are under tremendous stress.
I have heard of tow dolly wheel straps being abraded or cutting thru. How can I avoid this from happening?
This is an issue for every dolly on the market. It is your responsibility to check by feel and looking to verify that the wheel straps are not touching anything that could abrade or cut the straps. Straps are not warrantied against abrasion. Losing a strap in this manner can be dangerous. Check them often for proper fit and clearances. These straps do not "Break." They are rated to 19,800 pounds.
Can I back a loaded dolly?
Yes and no. In order to back a loaded dolly the RV, the dolly, and the car on the dolly all must be aligned and straight to begin with. Lock out the dolly brake system. At some point the dolly and the towed car will begin a divergent path that cannot be corrected. At some point damage to the dolly tongue will occur. I have seen one customer back his loaded dolly 50 feet here at the factory. Just be careful.
What is the tongue weight of the dolly?
Right at 70 lbs in your hands. Our Car Tow Dolly design allows you to stand all the way straight up, making maneuvering the dolly much easier. The higher you raise the the tongue the lighter the tongue weight feels. On a properly loaded tow dolly the tongue weight will always be 10-15% of the weight over the axle of the tow dolly. Remove the steel ramps from the tongue for a lighter load.
How long will a set of tires last?
It depends on the application, the road conditions, hard braking etc. We have customers that get 5000 miles and some get 20,000 miles from their tires. The passenger side tires wear faster because that side of the road is always worse. If the roads you travel are rough your tires will wear faster. Dollies do not have suspensions out of necessity. Therefore the tire is the only suspension component for a dolly. Uneven tire wear could be an indication that the bearings need to be adjusted. We now balance our tires with internal balancing beads. No need to ever balance the tires.
Do I need a brake controller in my towing vehicle to use your disc brake system?
No. A Brake controller is not required. Our brakes are self actuating. Just connect the dolly to your 2 inch ball. The actuator senses inertia and is activated. A very smooth, sensitive and powerful braking system. In a panic you will feel the dolly helping you stop. Our braking system includes a simple but very effective breakaway device. Should the dolly come off the ball for any reason the brakes will go to full lock up to bring everything to certain stop very quickly.
Will my vehicle work with your dolly?
It must be under 5000 lbs Curb Weight, under 3000 lbs front axle weight, less than 79 inches wheel width measured outside of tire to tire. Front wheel drive.
What height does the hitch need to be at?
The hitch height needs to be set at 14-16 inches with 14 inches being ideal for most vehicles. However, if you are ever towing a low profile vehicle you need the hitch height to be at 12 inches.
General
Where are you located?
We are located in Kernersville NC. You are welcome to visit us anytime you are nearby. We have around 20 people a week pick up their new Car Tow Dolly at the factory. We'll even help you load and secure your car if you want. We normally ship everything we make every day. If you want to pick up a fully assembled dolly we need to know in advance so we can prep one for you.
Do you have any used tow dollies for sale in stock?
No. We have nothing used for sale. No returns, no refurbs. Our website has a mention of used dollies, but that is simply a meta tag for Google search purposes.
Do I have to register my dolly? Does it include a title?
Dollies are considered equipment and as such are exempt from registration in most states. However a Federal Compliance decal with assigned and attached VIN number and Manufacturers Original Title is included.
How do I arrange for warranty service if I need it?
All warranty work is done in place anywhere in the world you may be. In case of emergency everything on our dolly that is serviceable can be purchased at most auto parts stores.
We require that you contact us regarding any warranty claim. We can send you all the parts you will need. This helps prevent the potential for price gouging from a repair center. More common than you may realize. ( we once had a repair center that wanted $189.00 for $7.00 worth of parts ) Our warranty excludes labor charges however depending on the circumstances and age of the dolly we may offer reimbursement at a reasonable rate. We know what it takes to repair a dolly.
That is why we want you to call us first. FYI, since 2006 we have had a .04 percentage of warranty claim history.
Do you have any dealers in my local area where I can see or purchase your dolly?
No. We do not have any dealers or distributors as we sell directly to the public. We ship direct to our buyers from Kernersville NC.
Ordering
How long does it typically take for my order to ship, and then for me to receive the dolly?
All shipping times are quoted at the time of purchase. Typically within a few days.
How exactly is it shipped to me? (Does someone need to be here? How will I get the dolly off of the truck? How will I know when the shipment is coming?)
We ship to a freight terminal near you or any business with a loading dock or forklift. When the the dolly is shipped our shipper will send you a shipping notification with an estimated delivery date that is 96% accurate. They do require a signature.
Do you supply an extra set of safety chains to attach the car to the dolly?
Yes, we supply a set of chains to serve as a backup to the wheel straps. They go from the dolly to the towed cars suspension and should always be used.
What exactly comes with my dolly?
The dolly, wheel straps, winches, Backup safety chains, LED lights,  Free LED lights requires online purchase thru our website.
What is your return policy?
The dolly industry is plagued by people who only need a dolly for one move and no longer need it until their next move. A lot of potential for abuse. U-Haul will only rent dollies to a handful of makes and models, thus driving people to the retail market. Add to that the issue of cost of shipping and crating requirements by the shipper it is nearly impossible to arrange return delivery. As such we have a very strict policy of no returns, no charge backs, no refunds. We enjoy a very high CSI ( Customer Satisfaction Index ) of 98%.
Our Warranty | Car Tow Dolly Co.
Our Dolly includes a Comprehensive, 6-Month Warranty (tires & wheel straps Excluded).
We offer 3-year and 5-year extended warranties for $250.00 and $350.00 each, see below for details.
6 Months
Total Comprehensive
All Inclusive
3 Years
Total Comprehensive
All Inclusive
Non-Transferrable
Recommend
Level Three
Warranty
$350
5 Years
Total Comprehensive
All Inclusive
One-Time Transferrable*
*admin fee of $50 to transfer.